The most powerful sales story - delivered all the ways you like to market.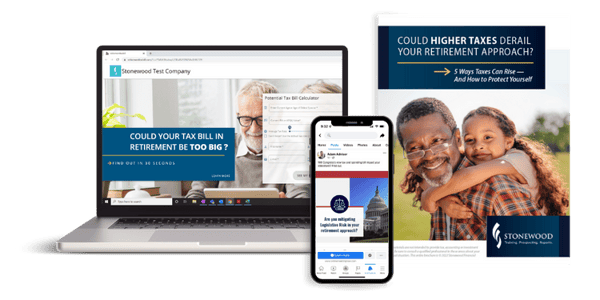 New leads. More clients.

Ready to grow your practice with the industry's top-converting tax and income story?
Our marketing tools help you generate leads and differentiate your practice.
What's more, each tool is custom-developed to feed into our software and reports - giving you a unified sales story from start to finish.
Marketing Toolkits
Curated resources around top retirement topics.
Seminars & Webinars
Proven presentations that drive appointments.
Lead Funnel Tools
Prospecting made easy and effective.
Books & Client Materials
Brochures, emails, books, videos and more.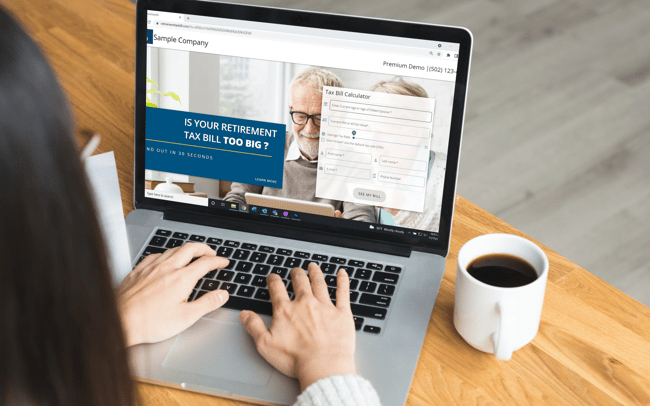 List Builder & Lead Generator
Build your list. Convert your contacts. Win more clients.
The Retirement Tax Bill Lead program brings Stonewood's most popular tax analysis directly to your prospects. Leverage it for incredible results.

Rising Tax Risk
---
Help clients uncover their Retirement Tax Bill
Taxes are the next frontier of retirement planning. Our toolkit helps you uncover, quantify, and address tax risk for prospects and clients alike.

Legislative Risk
---
Show the impact of Washington on your client's assets
As Congress debates trillions of dollars in new taxes, this toolkit shows clients what they can do to protect their nest egg.

Benefits of IUL
---
Share the tax, income and legacy advantages of IUL
If IUL is part of your practice, this toolkit will help you show its key benefits as part of a complete retirement income approach.

The Rising Tax Risk in Retirement
---
Today's top-converting retirement tax message - with a powerful CTA that drives appointments.

Washington's Impact on Your Retirement
---
Connecting the debate in Washington to U.S. savers - and how they can protect themselves.

The No-Compromise Retirement
---
The top market, tax, and income considerations savers need to address for a secure retirement.

The New Holistic Retirement
---
Examining retirement's key risks - and how savers of all ages can overcome them.

The No-Compromise Retirement Plan
---
Telling the tax-free conversion story to Baby Boomers and near-retirees.

The New Rules of Retirement Saving
---
Sharing the tax-free savings message with today's active savers.