Powerful Training. Powerful Results.
Ready to transform your practice? Stonewood is ready to help.
"Any fool can know. The point is to understand." – Albert Einstein
At Stonewood, we understand that knowledge and confidence are critical ingredients to a thriving practice. Our experts have crafted training events that lead the industry where it matters most: results.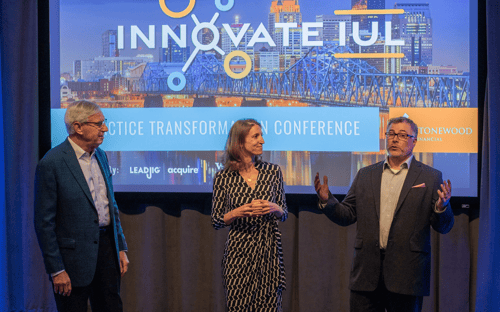 Innovate
The Industry's Top Practice-Transformation Conference
Innovate brings together our industry's sharpest minds, top-converting sales tools, and most powerful insights for a day of learning sure to transform your practice. Learn how to grow your practice with Stonewood's New Holistic approach, uniting market, income and taxes into a powerful (and persuasive) new retirement planning strategy for your clients.
Learn More and See Our Next Training Date
Stonewood Study Group
New Ideas. New Opportunities. New Knowledge.
Stonewood Study Groups are monthly, Members-only calls on the latest industry developments, sales ideas, and continuing education. Curious what you could learn? Get a sneak-peek at one of our most popular calls below:
Congressional Spending & Legislative Risk | Congress is debating significant changes to IRAs, 401(k)s and Roth accounts. Find out how they could impact your clients. Watch recording now.
Stonewood Online Academy
On-Demand Learning for Your Entire Team
Stonewood's most popular training courses are now available on-demand. Learn at your own pace from the comfort of your home or office - and educate your entire team on the IUL sales story, prospecting, client meetings and more.
Enjoy unlimited access to our most powerful content - from Select Academy Training to IUL Masters Academy On-Demand.
One-on-One Coaching
Custom Support to Grow Your Practice
At Stonewood, we know each advisor's practice is unique. And our team is here to help you incorporate the tax and IUL stories into your process.
All members get one-on-one coaching with our team of experts - from practice development and marketing support to case design and meeting prep. We're here to ensure you - and your team - find the success you set out to achieve.