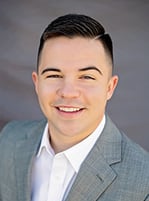 Job Title: VP | Member Success
What you do at Stonewood: Solve problems and make people smile.
Favorite part of your role: The making people smile part.
Fun fact about me: I can walk on my hands.
Background / Education: I earned my Bachelors Degree in Business at Bellarmine University, a small catholic college in Louisville, KY. I also earned an MBA from Northern Kentucky University.
Community involvement: I work with the youth group at Fern Creek Christian Church and have been leading a high school guys small group for the past three years. It is the highlight of my week.
Hobbies: My favorite thing to do is spend time with my wife Jordan, our daughter Charlotte, and our fur-child - a Pitbull named Knox. I am an avid runner and Crossfitter. I love being outside and spending time with friends and family. I have been blessed beyond my wildest imagination in life.
What we love about Alec: Alec's conscientious and determined attitude makes him a valuable asset to the team. He is not afraid to take on huge tasks and pitch in where he is needed. His fun energy and group oriented mindset makes him an uplifting presence.
Trusted Across the Industry