Put the industry's leading tax story to work for your practice. Stonewood helps advisors like you grow their practices by optimizing taxes in retirement, a powerful tax message and all the resources you need - from "nice to meet you" to "nice doing business with you."
Unlock the Power of Tax-Free & IUL

Software &
Analysis
Our client reports deliver powerful, persuasive analysis, designed to help you close business. Evaluate your client's total retirement tax bill, compare IUL, Roth and qualified strategies, and overcome objections before they occur. Once you use our custom client reports, you'll never meet a client without one.

Prospecting &
Marketing
We make marketing easy with proven sales stories and resources for every step of the sales process. Prospect with seminars, gain buy-in with industry-leading books, and motivate your clients with strategy resources. Stonewood tools help you find new prospects — and increase wallet-share from existing clients.

Training &
Coaching
Ready for training specifically designed to help you differentiate your practice and dramatically grow your book of business? Join Stonewood for our industry-leading live training events, online courses, and one-on-one coaching. We'll help you develop your sales process and grow your practice — year after year after year.
Powerful Programs. Powerful Results.
Powering Top Advisors
to Success.
Our services are designed for one bold purpose: To transform your business.
With Stonewood software, turn-key marketing programs, and training and coaching, you get access to proven sales and marketing approaches — and the tools to close business with them.
Seminars and lead generation tools for prospecting. Brochures and handouts for client meetings. Customized client reports to close business. It's a complete package sure to power you to success.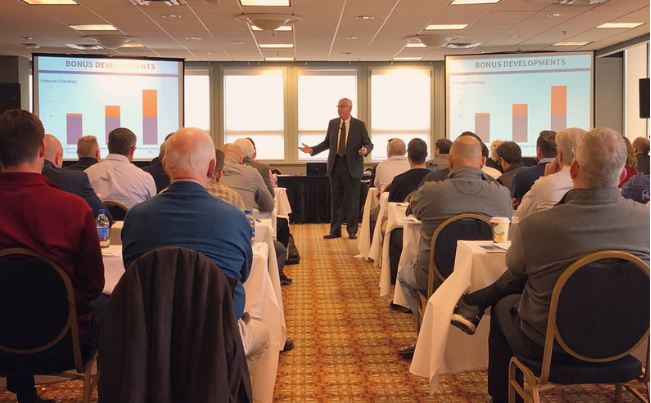 What our Members are Saying:
"Since joining Stonewood a few months ago, I have written and placed over $210,000 of Annual Life Premium. Thanks for helping me hit the ball out of the park." Stonewood Member
"I've been in the insurance and securities business since 1978... Stonewood's IUL Masters is one of the best trainings I've seen." Stonewood Member
"I had a specific question about an illustration I didn't understand. I asked Alec at Stonewood and he referred the question directly to Stonewood's leadership team. Within the hour, I had a detailed response and clarification. Just a happy Select member impressed with access to such a knowledge base at Stonewood!" Stonewood Select Member